What a great gardening year! My apologies to the smoldering Northwest, but I think we have a little bit of your weather. The slightly cooler, slightly damper, atypical summer in New Mexico has been a nice reprieve. And the plants are happy. This is a pretty good morning harvest for the end of July: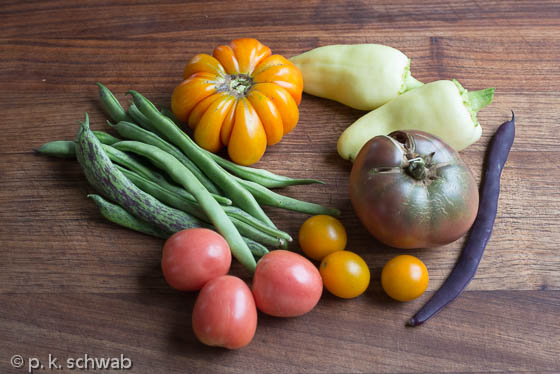 I've also been harvesting carrots and leeks. Stuff that's usually far gone for me this time of year. Oh, and look at the pretty eggplant: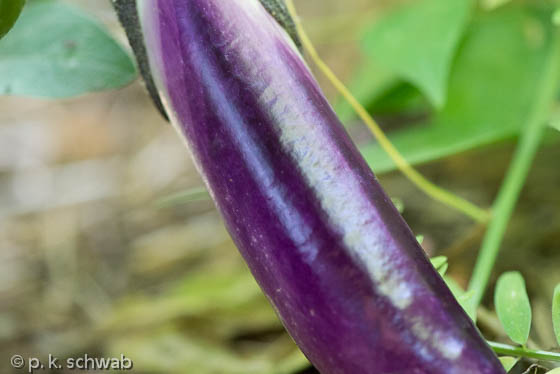 The critters are also out in full force. I've been seeing some larger raptors in the 'hood – larger than the usual hawks, as well as lots of tiny little creatures too. Look at this pretty crab spider: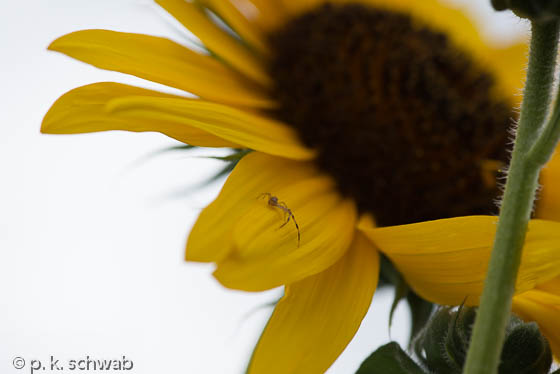 There's a bee back there too: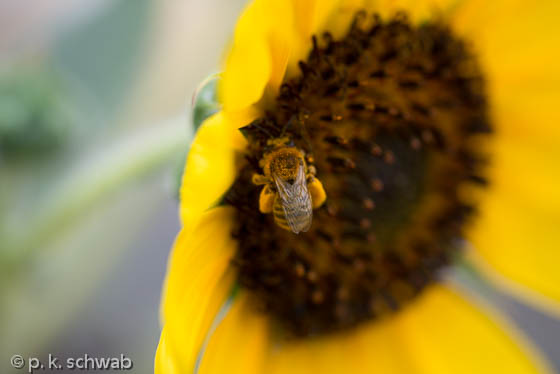 Speaking of bees, the two small colonies with new queens are slowly building up. Here's a photo of a comb from H002-1: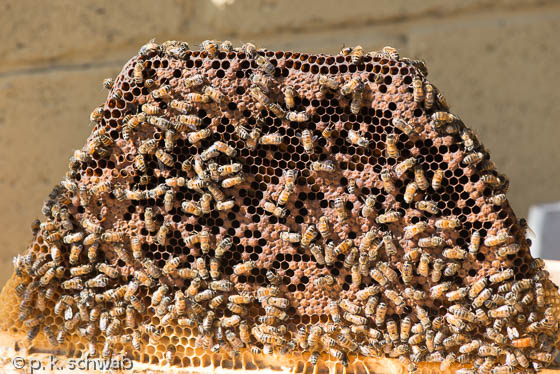 Recently a friend was asking me about inspecting my hives and how I am able to identify the queen. I explained how she looks different, and also moves differently. When I see her, it's usually the movement that catches my eye first, then the confirmation of the different size and color. You can see the queen in H002-1 at the very bottom right of the photo above. Most of the time I don't worry too much if I don't see her, so long as there are signs of her in the hive. Although it is always nice when I do catch sight of her, just as extra confirmation, and yesterday I found myself looking very closely for a queen when I was inspecting H001-1, my queen-right split. I was almost done with the inspection when I had a nagging suspicion that something wasn't quite right. Then it dawned on me that while I had seen a lot of capped brood, I hadn't seen any young, uncapped larvae. I quickly went back for a second look. Not only was there very little uncapped brood, but what there was, looked like this: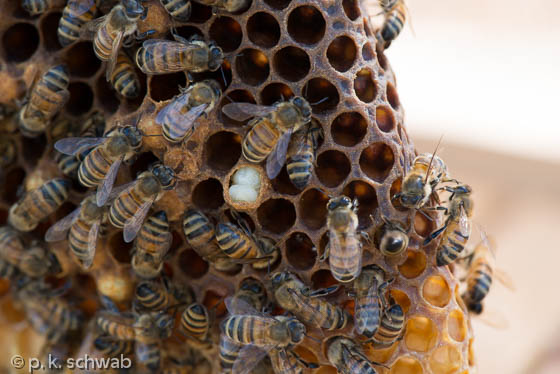 Two larvae in one cell – a classic sign of laying workers. I have no idea what happened to the queen ( I never did see her). This is the hive that has the other split at the back. I noticed the follower board hadn't been well seated after the last inspection and bees seemed to be squeezing through, back and forth. I wonder if the pheromones from the young queen interfered with the front colony. I have no idea if the old queen died, was killed or took off with a swarm. However, since it looked like there was already communication happening between the colonies, I took out the follower board and placed a piece of paper between the colonies as a very penetrable barrier – hopefully the two colonies will become one in a few days without any violence. There's always something new and fascinating to observe when I open the hives. You know, I never had any inkling that beekeeping might be my avocation, but I'm beginning to suspect that I will I could easily spend the next few decades learning from the hives.