Please forgive my long absence. This has been a crazy summer. A few days after my last post in early July, we finally began the final phase of house renovation: new windows and exterior doors, new roof, interior plaster and floor patches, interior paint, exterior insulation, stucco, and solar panels. The project is about 75% complete – the interior work is done, now we're just waiting for a break in monsoon season so the exterior work can be completed. Fortunately, this time around, the project is not DIY, however, there's been the chaos that is to be expected when every room of your home is touched by construction. And, to pile on the chaos, in the middle of it all, I underwent a medical procedure and was required to take it easy for the 6 week recovery. We're just starting to regain a bit of composure and balance, and now that I can lift and dig, I'm starting to work on getting caught up with the garden.
I had to relocate or remove about 25% of my vegetable garden in July, to provide access to the back of our house, so this hasn't been the most productive year for homegrown vegetables. However, even with the disruption, we're harvesting a pretty good vegetable supplement every day. Also, this was the first year for a real fruit harvest: 5 pounds of grapes which I converted to raisins, and about 10 pounds of peaches. The last pound or two are still on the tree, but so far I've made a small batch of jam, frozen some, baked some into a galette, and eaten quite a few with my morning yogurt and muesli.
As I alluded earlier, we've had a somewhat unrelenting monsoon season, which is quite welcome, despite the construction delays. As a result, the yard is quite verdant (a.k.a weedy) and it's been a good year for spotting garden visitors. This morning, while I worked, there was quite an assortment of birds keeping me company. Besides the usual throng of house sparrows, I spotted a Curved-bill Thrasher: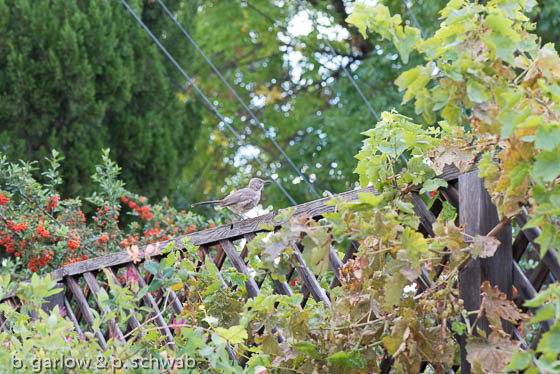 A Lesser Goldfinch (his mate was here too):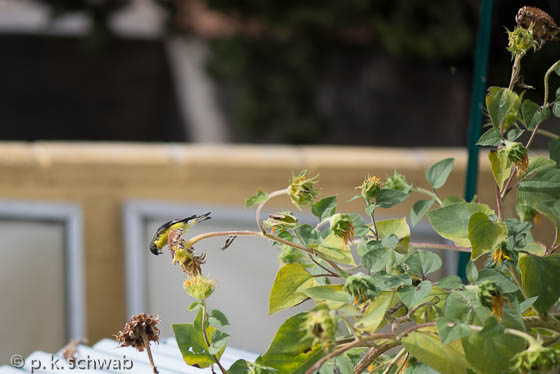 and, of course, a Roadrunner: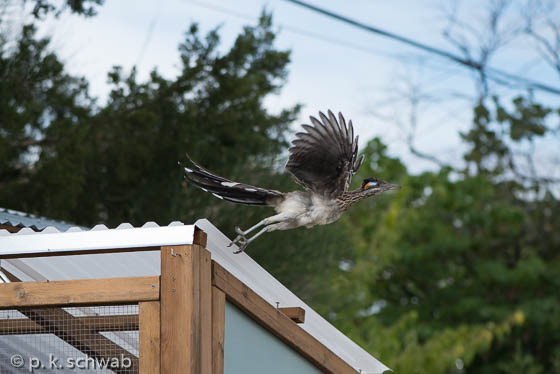 Oh, and I almost forgot the big news. We have fresh backyard eggs again! Dora started laying a few weeks ago, at the very young age of 20 weeks, and Iris laid her first egg yesterday. Meanwhile, Lemmy is still showing no interest at all in the nest box.