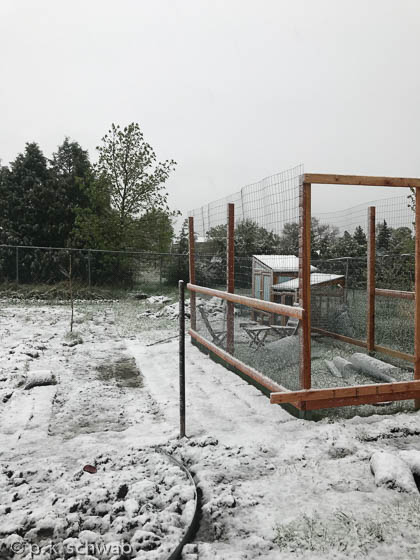 . . . and it is snowing again. Although, in the intervening two weeks, we've had all the various iterations of weather: hot and sunny, cold and windy, rain, thunder, lightening, sleet and hail. Lots of hail. It's been a fairly comprehensive introduction to Front Range weather. When the sky allows, I've been outside, wrangling with the dirt. I have zero patience to take it slow. I want instant garden. I admit, that's not really a practical approach. Normally, I advise design clients to take their time, live in a house and yard for a while to get a feel for the new place. But, I've never been good at following my own advice. Plus, I missed most of last year's summer garden due to the various disruptions, and I don't want to forgo another year. So, I've started digging.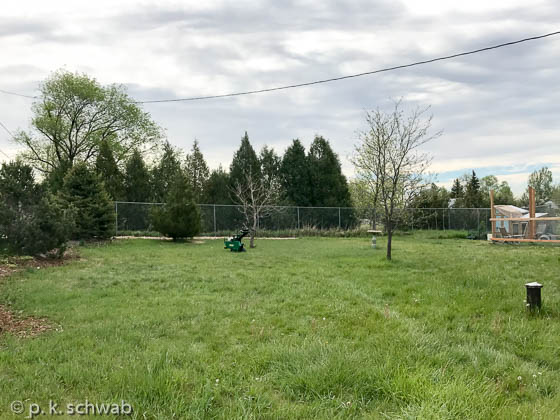 Actually, I broke down and rented a power tool for a day; I tackled a significant portion of the back yard with a gas powered sod cutter. Yes, it was loud, polluting and stinky; a crazy shaking beast to steer; and I was just barely strong enough to set it up and wrestle it from one spot to the next. The end result is not a tidy row of rolled sod as you would see on a professional job. Instead I'm left with lots of missed strips and some areas not cut at all due to the uneven ground and grass length I was working with. Most of the cut sod is still laying where it was cut because I just didn't have the strength and stamina to move it as it was cut. Also, the belt on the cutter slipped with about an hour of cutting to go, so I returned it before completing the job and just couldn't bring myself to schlep another one home to finish the work.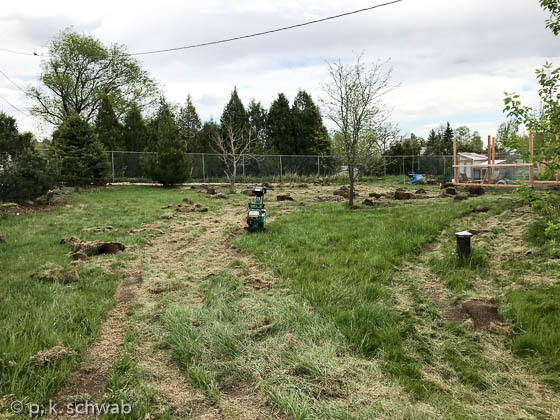 However, even with all that, it was worth it to get as much sod removed as possible in the shortest amount of time. I'm still well ahead of where I'd be if I were removing the grass by hand. Yeah, ideally I would have sheet mulched over the grass for a year to build great soil for future gardens, but please refer to my earlier statement regarding lack of patience. However, all of the cut sod is staying on site. I'm flipping some of it over and using the strips to raise grade where appropriate. The rest of it will be relocated to my compost piles.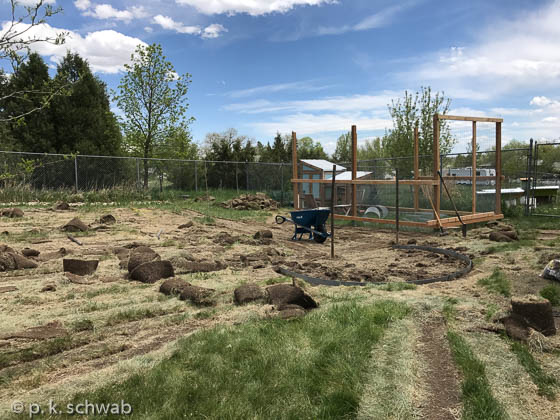 Now that the sod is cut, I'm starting to delineate planting beds, fence lines and future patio areas. There's a ton of work ahead, but I'm tackling the most critical areas first: I've edged and dug the herb garden (the half-circle area in the above photo), and started on the vegetable beds. I'm hoping to bring in a couple of loads of compost and manure next week, so, you know, if it stops snowing, I can start transplanting my stockpile of plants. I have a considerable collection of plants waiting for a home. I have several batches of vegetable seedlings I started prior to the move and drove up here. There are all the herbs, perennials and shrubs I mined from the Albuquerque garden. There are also the plants I purchased here. I took a day off last week to attend the Denver Botanic Garden plant sale. There was a great variety of plants for sale, and I was able to procure a good selection of both perennials and annuals. There were a few things that I didn't find at the sale, of course, so I took a field trip to Boulder over the weekend to check out Harlequin's Garden – a great small nursery that smells like dirt and flowers, not that chemical odor prevalent at so many garden centers. It is a bit of a drive, but worth it. Ok, well, there's a lot more to catch up on, but don't worry, with another snow day in the forecast for tomorrow (sigh), I might actually have some time at my desk again.