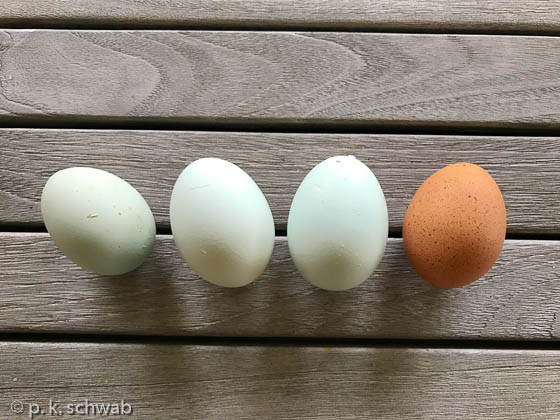 For the past three weeks, several times per week, I find three eggs in the hens' nest box and one up in the coop. Yes, six year old, "Bigfoot" Ezzie is laying eggs regularly. Since becoming sick, she has occasionally laid an egg or two, but never like this. Despite the less-than-ideal living quarters they're currently inhabiting, all the hens seem to enjoy the new spread, but especially Ezzie. Whenever I open the coop doors, she leaps into my arms to receive an airlift down onto the grass. I'm a little nervous about a hawk snagging her (the hawks here are impressively large) so she doesn't get out as much as she'd like, but she does get out most days to peck the dirt, nibble on the grass and take a sunbath. This is a fairly common pose: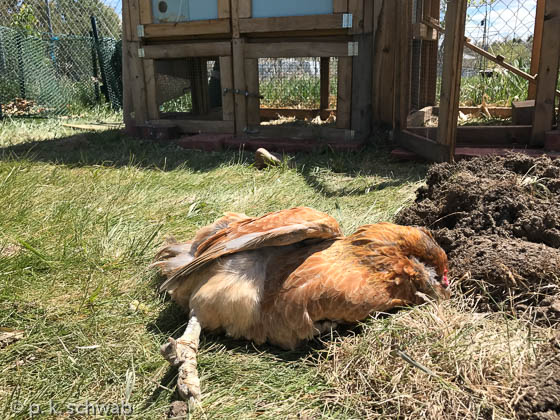 Since I don't have a very good setup for the hens right now, against my better judgement, I've been allowing them to free range within the fenced backyard when I'm at home. I will say, their feed consumption has decreased dramatically with all the worms and grubs they are able to scratch up. However, three different neighbors have told me stories of losing their entire flock to coyotes or foxes, so I'm working on building a large, secure run to keep them safe.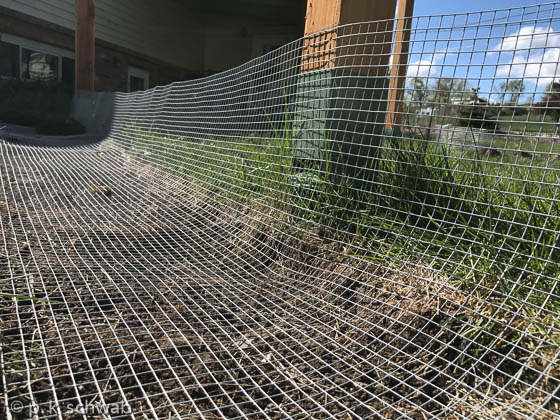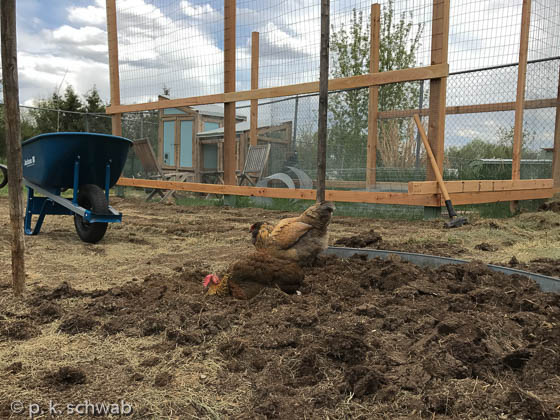 Its been slow going, as I've been trying to fit the work in between other commitments. Digging to bury the perimeter hardware cloth was the slowest part of the construction, but now that I've completed that portion, attaching the framing and wire fencing is going more quickly. When the run is complete, I will move the current mobile coop inside, to keep them safer at night, while I work on building a proper, winter-worthy coop. You know, something that keeps out horizontal snow.