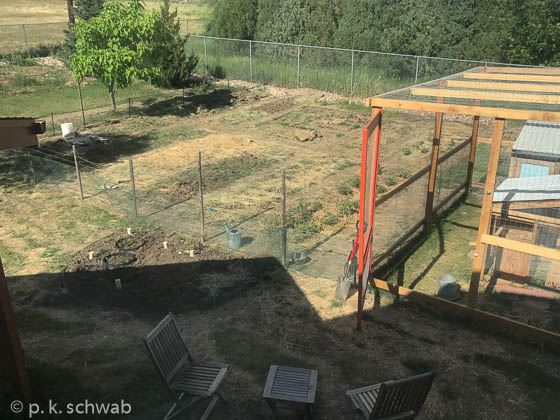 I can't believe a month has passed (already?) since I last checked in. The weeks are flying by. Most days my schedule devolves into chaos as I bounce between items on my "to do" list:  establish a vegetable garden, build a predator proof chicken run, unpack all the boxes, build new hives for the expanding apiary, and maintain the gardens and pasture that are already here . . .
However, I think I have finally gotten the upper hand (if we ignore the 18″ tall dandelion patch gone to seed in the front pasture/meadow), and can take a bit of a breather before diving in again.
The vegetable garden is planted with the summer vegetables (minus the giant beds of potatoes and New Mexico chiles that I'll hopefully grow in future years),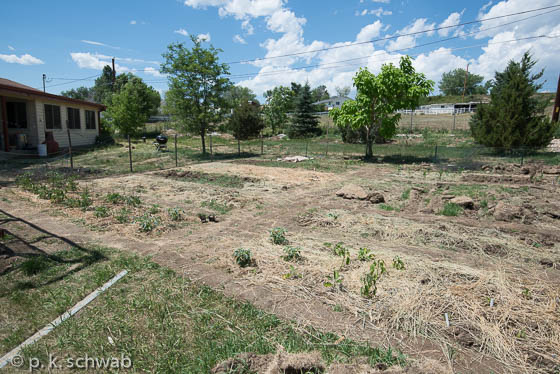 so now I can spend some time working on the rest of the yard before prepping the beds that will be planted with the fall crops.  I still have lots of perennials and shrubs looking for a permanent dirt home, so as soon as the record-setting heat wave is over, I plant to start weeding and expanding the ornamental garden beds.
The 8′ x 16′ chicken run is pretty much complete, although I believe someone was talking about tricking it out with some additional roosts, and a dust bathing area.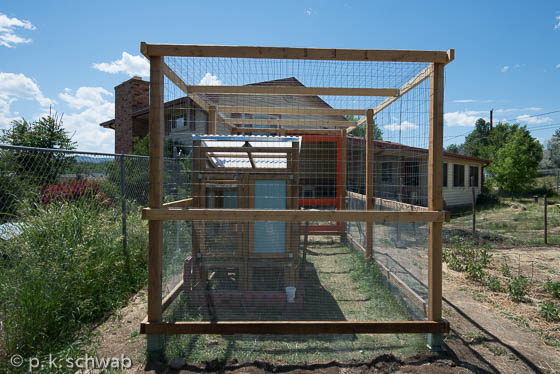 The next improvement in Chickenland will be a new coop. I'm planning on building a 6′ x 8′ shed, half for chickens, half for supplies and garden tools. My plan is to start building at the end of August, with the goal of completing it by mid/late September (before the first snowstorm).
In the meantime, I've been busy in the workshop building new beehives. I thought I was off the hook for the year, as I ended up combining the colony temporarily housed in a nuc box with my other swarm that lost their queen. However, a few weeks ago, the colony that cast off those swarms back in April started building queen cells again. Before I was able to do a divide, they sent out two swarms. The first swarm was a giant swarm with the existing queen, and the second was a much smaller swarm with a virgin queen.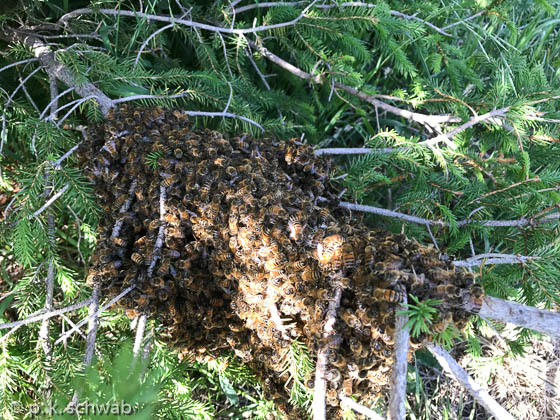 Fortunately I was able to capture both swarms, so now I have 5 colonies on site.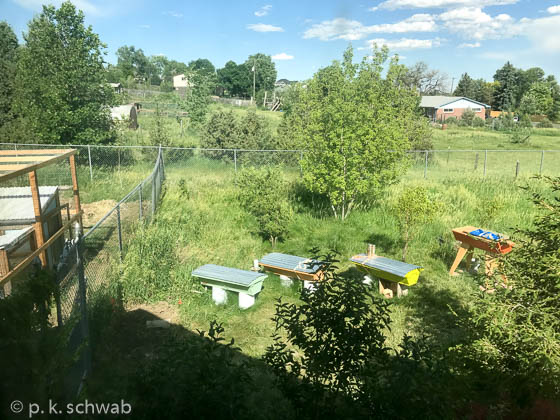 The large swarm is housed in a new hive I hastily built.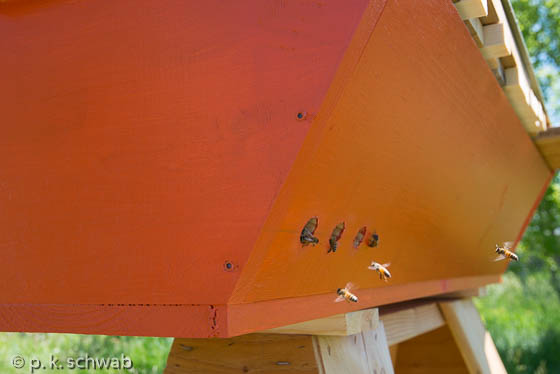 They've already built comb on 12 bars and have filled much of those with brood. The small swarm is rapidly filling the nuc box which holds 7 bars. No signs of egg laying yet, but there is partial comb on all the bars. I'm debating between building another horizontal topbar hive or trying to super the nuc box with a small top bar box. I have about a week to decide and build.