Apparently, despite my best intentions, I'm on the once per month posting schedule. Ooops. Fortunately, I have a steady stream of phone photos I can use to catch us up.
Since the last time I checked in, the new vegetable garden has grown by leaps and bounds.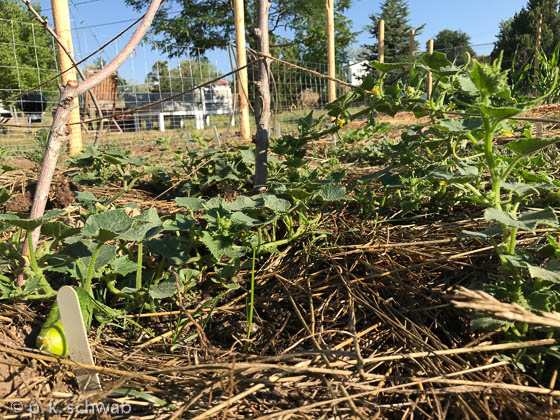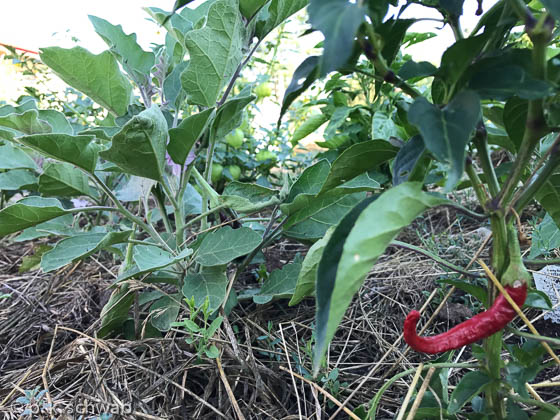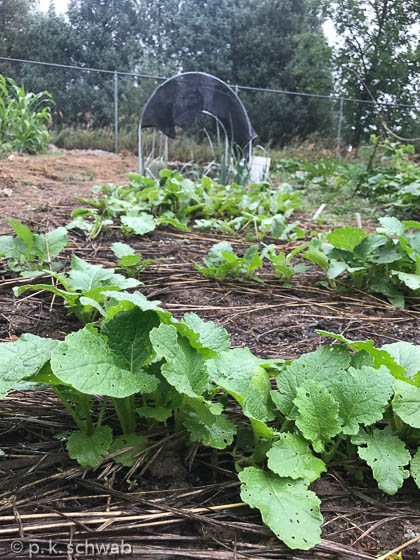 Thanks to several cool (cold?) misty days, the Fall roots and greens are actually looking pretty lush right now. For the first time ever,  I've had success getting rutabaga and Daikon radish established mid-summer for Fall harvest.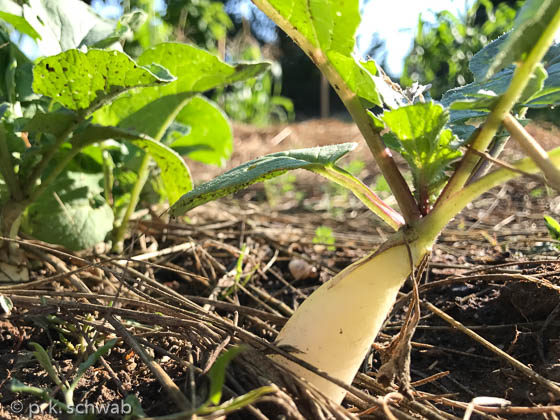 I've already been pulling the Daikon thinnings as super peppery salad radishes. I guess that's the trade-off for tomatoes that don't ripen until mid-August. Speaking of tomatoes, I've harvested one Glacier tomato so far, with another one ready today. That's it, but it looks like within the next week, several more varieties should start to ripen.
I finally have all the vegetable beds prepped. The ones that won't be planted until the Spring get a cover of compost, paper and grass clippings, but the beds that are planted now, I dig in the compost. I have found that I don't have a deep enough layer of compost on top for the no-dig method to work here when I want to plant immediately. Anyway, the last bed I prepped received the asparagus transplants I started from seed this Spring. They've been hanging around in nursery pots, and I wanted to get them into their permanent home in time to get established before the tops are frost killed. They look so fragile, but I've found they are surprisingly resilient.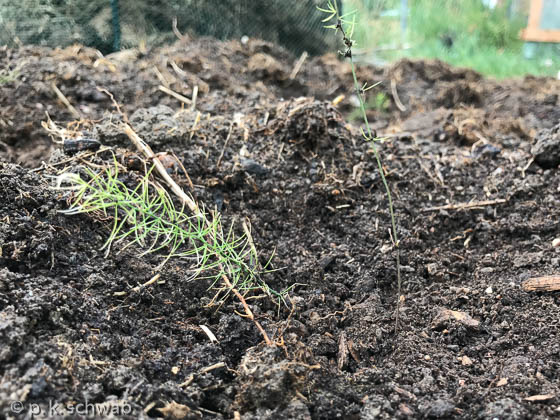 I managed to get 11 plants into the ground which seems to be the right number for us, but I'll probably start a few more from seed this winter in case I lose some plants over the winter.
Since I'm finally caught up on the most pressing vegetable garden tasks, I've been able to tackle the garden infrastructure. Living in a less densely developed area, with water nearby, means there's a wide variety of critters that visit the garden. Many of them, like this gorgeous toad that passed through the other day,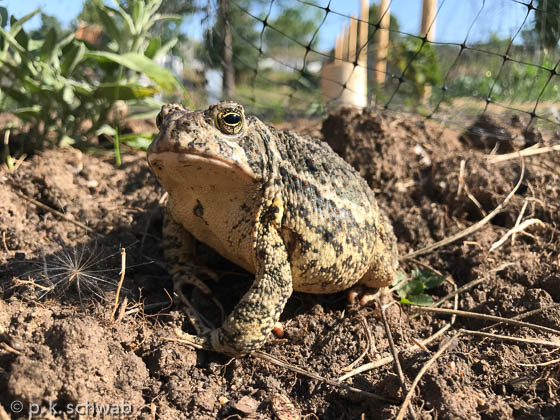 or the awesome mantis,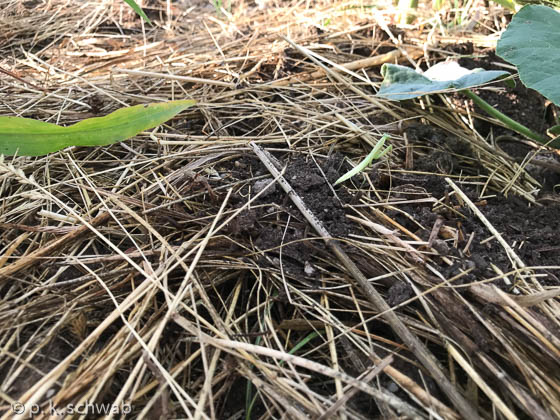 are always welcome. However, other creatures are welcome on a more provisional basis.
For instance, this super-cute scampering friend, nicknamed Bunz,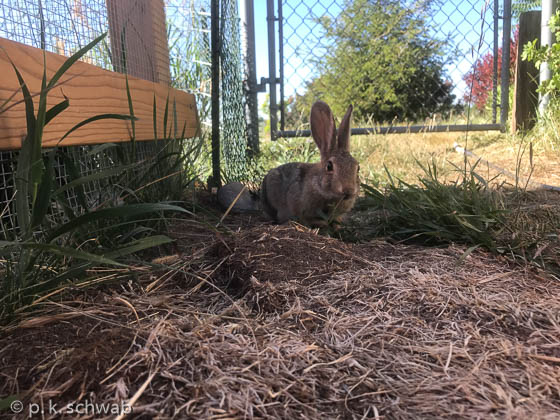 was starting to make a habit out of helping me weed the vegetable garden every morning. This was the incentive I needed to finally find the time to install the rabbit fencing. Fortunately I had help, so I was able to get all the lodgepole pine posts set and the welded wire rabbit fence installed, in about 2 days worth of work. I trenched along the perimeter so we were able to set the bottom of the fence about three inches below grade. That won't stop determined digging, but should deter casual attempts at tunneling under.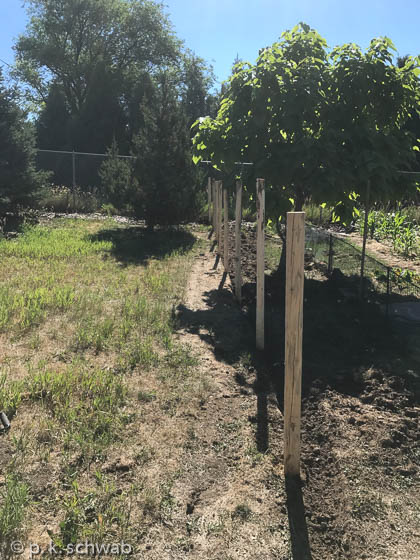 I sealed all the posts prior to setting them. Also, we used an auxiliary metal post, ratchet strap and two 2×4 scraps bolted together to tension the fencing before attaching it to the posts. That worked pretty well and I'm quite pleased with the results.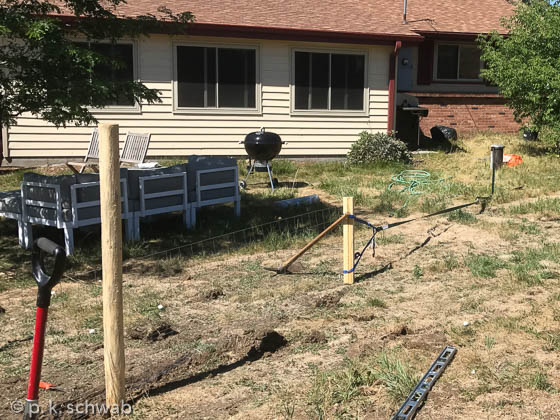 I still need to secure the chain link perimeter and build a couple of gates, but for now, Bunz and all the other rabbit friends, have been staying out of the vegetable garden.
With the fencing installed, I began to pay attention to the inner voice nagging me about how quickly Autumn is approaching. Given that the first Fall frost is probably not too far off, I've started installing low tunnel hoops.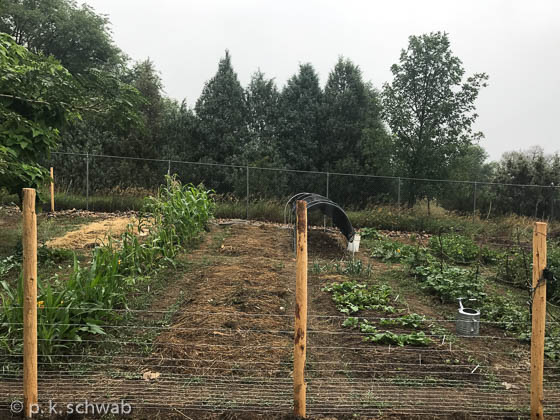 I was never very fond of the pvc hoops I used in Albuquerque, so this time around, I'm using 1/2″ EMT. I ordered a 4′ pipe bender, as well as some plastic clips, greenhouse plastic and two weights of fabric row cover to get started. Right now, I have hoops and some old shade cloth over the greens that will be under plastic this winter. I will put fabric row cover over the hardier fall greens and roots, and I will also cover the tomatoes and peppers in a few weeks to provide a bit of season extension. I've noticed on my walks around the neighborhood, some folks grow the warm weather crops under cover all summer. Even though we have plenty of searing hot summer days, I think the cool nights slow everything down. I might give that a try next year. Also, next year I will also get a lightweight row cover up over all the Brassicas before they get nibbled to a nub by cabbage moth larva. That's the other benefit to segregating crop families in the new garden. I will be able to cover the leaf crops without worrying about hindering the pollination of fruiting crops. There are so many new experiments to try – I'm already looking forward to next Spring.