I've been meaning to post on various topics for the past 10 days, but things are so hectic here I haven't had a chance to pull out the camera to snap any decent shots. So, instead, here's an update based on whatever photos I can find on my phone.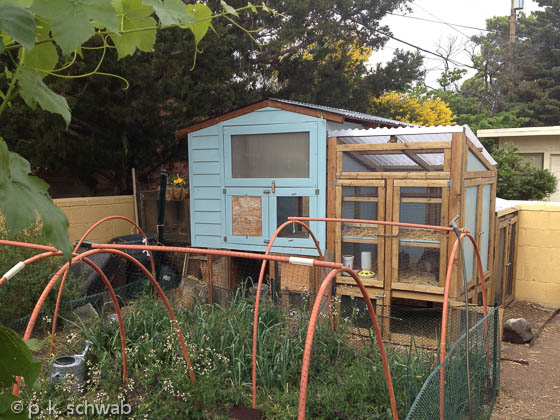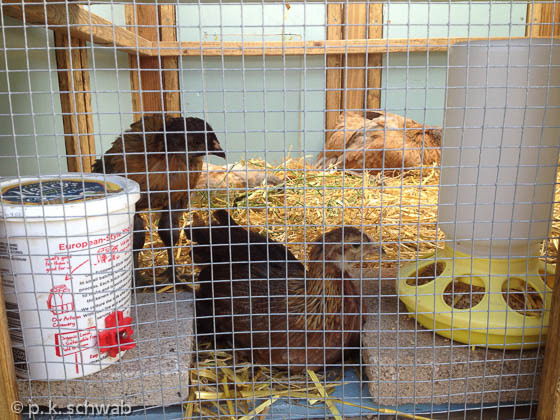 The new coop is finally done enough (I still need to  build the storm hatches and nest boxes) that we could relocate the six-week-old pullets yesterday.  I've moved Ezzie in with them and she seems pleased to have the company, although there was a bit of growling and gentle pecking at first. The little ones have no sense of personal space, of course,  and it took her a while to teach them that pecking food debris out of her mutton chops is definitely not allowed. Meanwhile, the two Wyandottes are all out of sorts about the addition. They kvetched non-stop all day yesterday, to the point that someone (not me, of course) may have threatened them with the stew pot.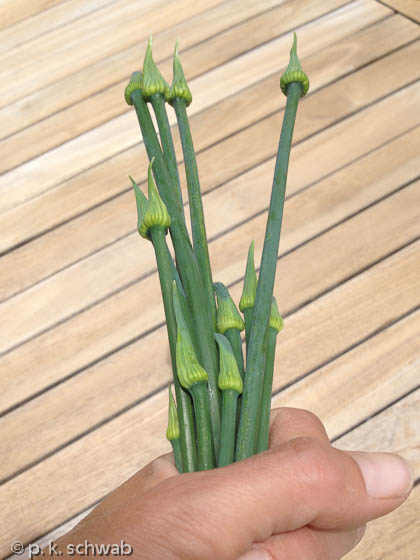 The garden is very full and starting to produce small bits of new interesting things. The cool weather greens are starting to wilt in the mid-afternoon heat, despite the shade cloth, so it's time to start pulling the turnips and mustard greens, whether they're ready or not. Yesterday I pinched off a handful of shallot scapes (I think this is the first time the French Red shallots have sent up bloom stalks) which, along with a bundle of herbs and a handful of fresh fava beans, made a great pesto. I've been snagging an occasional snap pea snack, with the shelling peas only about a week away from the first harvest. Also, I took advantage of the grape vines needing a bit of a trim, and used the nice big tender leaves I scavenged for a small batch of dolmas (the veggie version, typically served chilled). I followed Claudia Roden's recipe from The New Book of Middle Eastern Food and they were, hands down, the best dolmas I've eaten, due in part, I think, to the fresh grape leaves.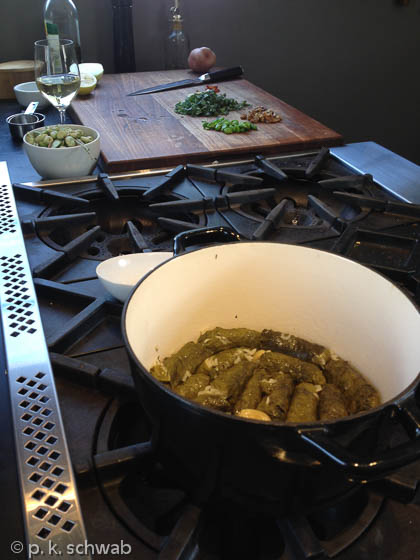 Finally, here's a progress shot of the "giant asparagus" from 2 days ago: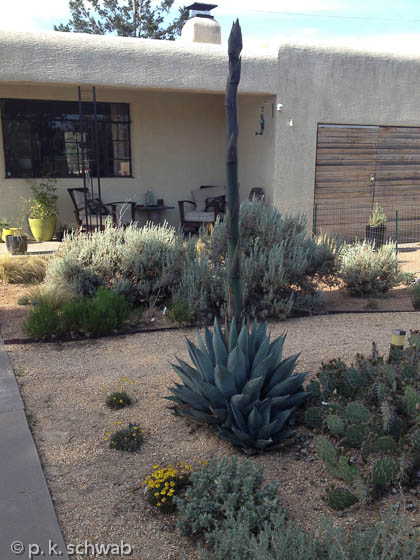 Makes the Jack and the Beanstalk story seem totally viable, no?